Today's Events
no events today

Tweet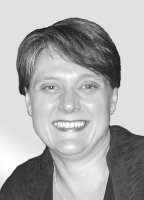 Andrea Harris
Andrea is a nurse employed by NHS Blood & Transplant.
Up until recently Andrea worked as a member of the NHSBT Patient Blood Management Team, with a special interest in evidence based transfusion practice, and is a member of the British Committee for Standards in Haematology (BCSH) Transfusion Task Force Team, responsible for producing national transfusion guidelines.
She is currently on a 12 month secondment within NHSBT as a Professional Nursing Lead (for the Diagnostic and Therapeutic Services Directorate), focussing on nurse professional development, accountability issues and leadership.Prior to working in NHSBT, Andrea was a specialist Haematology and Oncology nurse, which is where her keen interest in transfusion developed.Andrea has also previously been secretary for the BBTS HoT SIG group, and was the founder member and secretary for the BBTS Transfusion Practitioners group.