Today's Events
no events today

Tweet
Enrolment Process
Enrolment for this programme will take place during a 6 week period each year (date TBC)). A link to the application form is provided at the bottom of this page. Applications outside this time will not be considered.
All applications are checked against the eligibility criteria for approval. If you meet the criteria, you will be approved and your place reserved until your deposit is received.
Confirmed enrolment requires a payment deposit of 20% of the full fee by 31st July each year.. Non-payment of the deposit may result in your reserved place being rescinded.
NB. If you do not meet the minimum eligibility criteria stated you will not be approved. You may appeal this decision or request feedback/advice about reapplying in the future. If required,please email your appeal or request to the BBTS Education Officer at michaela.cheetham@bbts.org.uk.

Appeals are dealt with by the Chief Examiner. The process may take several weeks before a response is received.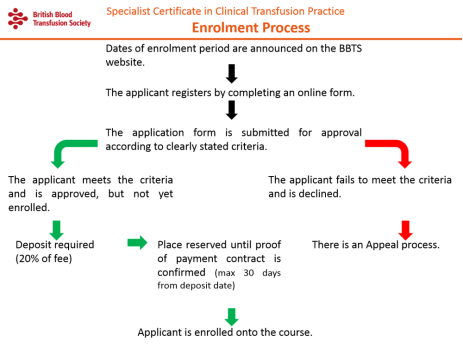 ---
---