Today's Events
no events today




Tweet
Programme of Study
The course is delivered via a 12 month structured online curriculum of distance learning through the BBTS website. The timetable is as follows:
Start: To be confirmed
Induction Day
A face-to-face Induction Day in Manchester marks the start of the programme. If you are unable to attend, all relevant information will be made available online shortly after the event.
Finish: To be confirmed
Examination
The final examination marks the end of the programme.
This takes place in Manchester* on the 2nd or 3rd Saturday in November.
The date will be confirmed and all students informed in spring.
The examination takes place over a full day:
Paper 1 begins at 10 am (with entry no later than 9.45 am)

Finish time is 3 pm.
*the centralised examination venue and date of exam are non-negotiable
Please note that the assessment for this programme is a 2-part process.
As well as the endpoint examination
you will be required to produce and submit a professional poster for assessment during the programme.Programme running order:
Learning materials are normally released on a Friday . All materials will remain available to review, once published, until the examination date.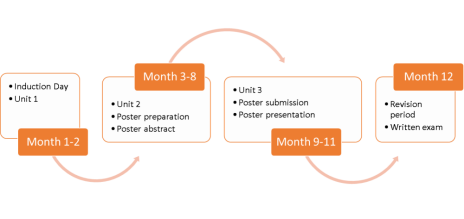 Timetable at a glance (2019 to 2020)
May
Haemostasis and platelet physiology.
Pathology of anaemia and haematological diseases (overview)

July
Management of blood components in the hospital: Part 1.
Epidemiology of blood transfusion.
Adverse effects of transfusion: Part 1.

Aug
Transfusion in surgery
- Pre-operative assessment including anaemia and coagulation
problems
- Cell salvage and blood sparing surgery
- Acute bleeding Post-operative transfusion thresholds
- Cardiac surgery and bypass

Transfusion in critical care
- The routine and/ or restrictive use of blood components in critically ill
patients.
- Transfusion triggers and thresholds.

October
Transfusion in surgery and critical care (continued)
- Major haemorrhage in a range of patient groups.

Transfusion in Medical Patients
- Transfusion management strategies for a range of inherited
haemoglobinopathies

November
Problems associated with chronic transfusion
Transfusion management of patients with haemolytic anaemias and thrombocytopenias
Use of blood components in patients with cancer

December
Anaemias and haematological disease occurring in pregnancy
Obstetric massive transfusion, antepartum haemorrhage and postpartum haemorrhage

February
Haemolytic disease of the fetus and newborn (HDFN)
Anti-D prophylaxis

March
Transfusion in children
Transfusion in transplantation

May
Adverse effects of transfusion: Part 2.
Management of blood components in the hospital: Part 2.

June
Alternatives and adjuncts to transfusion
Therapeutic Apheresis
Quality, regulation and clinical audit with respect to the clinical area

July
Transfusion Liaison (laboratory, transfusion practitioner and clinical area/ user interactions and communication)
Transfusion practices outside the UK

September - November
Revision period