Categories
Today's Events
no events today

Tweet
Take a look - NHSBT Blood Components App
Don't forget to take a look at the revised and updated Blood Components app from NHSBT. Following a full content revision and with a fresh look, the app incorporates the National Blood Transfusion Committee Indication Codes for Transfusion in Adults (updated 2020) and the 2016 British Society for Haematology Guideline on transfusion for fetuses, neonates and older children (2020 addendum) in an intuitive and simple format.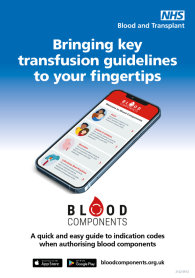 The app is free and available on Apple and Google Play stores, is suitable for central download in hospitals, and now available as a web-based version https://www.bloodcomponents.org.uk/
Existing users will receive an automatic update.