Welcome to your new look BBTS!
2013 was a great year for BBTS! Along with all the good work we usually do, the Annual Conference scored our highest ever delegate satisfaction rating and we introduced our brand new online CPD tool. We're hoping 2014 can be even better and with lots of advancements in the pipeline we felt that now was the right time to develop our visual identity.
A Modern Outlook
In keeping with global changes both socially and digitally, it is important for us as a Society to keep up the pace and adapt our image to represent a modern outlook. The new look is a direct reflection of our membership community - modern, dynamic and forward-thinking. The refreshed identity illustrates how far BBTS has come over the past 30 years evolving from a single network of transfusionists to a 1600 strong internationally represented society.
We are committed to connecting professionals at all levels of their career with the same passion and determination laid out by our founding members.
As part of the new identity you will have already noticed some significant changes to our website including a completely refreshed My BBTS which now provides quick links to the areas you use most often. Bloodlines has also received a make over with a new clean design whilst retaining the same great content. Plus, of course, our brand new logo.
Our New Logo
The new logo is designed to represent a group of red blood cells and the simple, clean lines depict openness and the Society's commitment to support our members throughout their transfusion careers. The red is a nod to our two previous logos which have represented the society since 1985.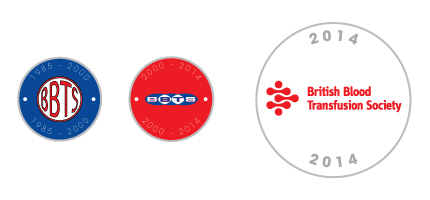 Let us know what you think
We hope you like the new look and would love to hear your feedback. Let us know what you think in the comments below.
The BBTS Team