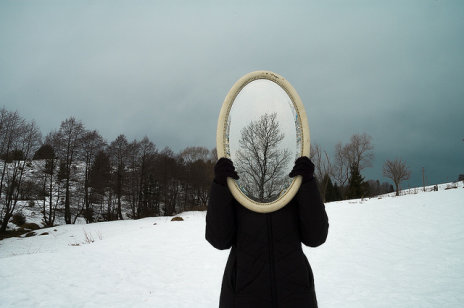 Rose's Random Reflections: Take a look in the mirror


---
As usual this morning I check myself over in the mirror before I leave for the day. What does my reflection show? Shoes ok? No, too heavy, change for a lighter pair. Hair tidy? Reasonable, apply a little wax and it's a bit better. Oh no! Another grey hair and couple of extra lines on my face. Ah well, it's to be expected and the lines are simply a reflection of my mood and activity over time. Time does not stand still and its effects become ever more apparent.
I get into the car and as I start my hour long drive I have time to reflect on what I see in the mirror, and sometimes, I will admit, I think I look pretty good! Another day, another view and I despair at the bumps, lines and tired complexion that go hand in hand with a busy lifestyle. It's all part of life and we can't do much about it – or can we? I can take more exercise, enjoy the fresh air and get enough sleep; I can eat a healthy diet, take less alcohol and drink more water; I can floss every day; I can cleanse, tone, moisturise and apply sunscreen to protect my skin. I can change what I do to minimise harm but I cannot make time stand still and cannot stop change (or progress maybe?), from happening. Later, as I sit a little uncomfortably through a barrage of questions from the meeting chairperson and hope to deflect the attention from 'actions not completed' I wonder where I went wrong. It's time to look in the mirror again, the professional mirror.
This type of reflection requires honesty, and a willingness to accept responsibility for our beliefs, values, shortcomings and actions. Reflection enables us to look critically at what we know and what we do, but kindly, without blame, and with an acceptance of our limitations. It also enables us to look critically at the impact of our actions and to identify what we need to continue, improve or change. At this point it is worth remembering that reflection is not always associated with negative events. There is always a balance and we should also consider our better features and developmental activities or opportunities.
Reflection is so much more than recall. How many of us will attend an educational activity and think, "Oh, that was interesting …", and then carry on with the day job? We carefully file away the certificate of attendance and tick it off as a CPD activity completed. We might even write a list of all the topics covered before putting the folder back on the shelf until next time. What did we learn? We may recall a few points but unless we properly reflect on the relevance of the experience to our own practice it simply becomes an accumulation of knowledge with little useful impact. Reflection is therefore the ability to learn effectively from our experiences, both good and bad, allowing us to continually develop and improve.
"But hang on a minute", I hear you say. "I did do things differently after that study day"; "I did learn something from that presentation". Excellent, then you already are, or at least on your way to being, a reflective practitioner. You just have to realise the 'what' and formalise the 'how'. Importantly, how do you know that different actions or learning are appropriate and effective? Don't make a change for change's sake; be certain that the change brings about an improvement. This is the crux of reflective practice.
It is not only study days that provide us with material for reflection. We all have days when it seems as if nothing goes right and conversely the days when we feel all has gone to plan. So is it just our own understanding? What else informs us? In every area of health care (and life in general) we take compliments and criticisms, constructive or otherwise, and process the information in order to repeat the experience, or not as the case may be. Again, this is more than remembering what we did, what she did or he said. Remembering yes, but also reflecting on how we reached a particular decision that led to an outcome enables us to better plan for next time when a similar situation arises.
There is benefit from regular and timely reflection in that it is a cornerstone of the professional portfolio. An essential element for nurses and midwives in revalidation, it is also beneficial to biomedical scientists and other allied health professionals in demonstrating continued development and that learning has taken place. It is easy to get lost in reflective thought and even easier to focus on the negatives, so it is useful to adopt a model for reflection. There are many models available and the latest, suitably named REFLECT model by Barksby et al (2015) can give some focus for our thoughts so that we avoid beating ourselves up and look at any situation objectively.
RECALL the events (stage 1): a brief, factual overview of the situation upon which you are reflecting.

EXAMINE your responses (stage 2): discuss your thoughts and actions at the time of the event

Acknowledge FEELINGS (stage 3): highlight any feelings you experienced at the time

LEARN from the experience (stage 4): consider what you learned about the situation and yourself

EXPLORE options (stage 5): what might you do in a similar situation

CREATE a plan of action (stage 6): plan for additional theoretical learning or action

Set TIMESCALE (stage 7): set your time frame to complete your action plan

Adapted from Barksby et al (2015)
Reflection constantly renews us then, as we recalibrate, based on the experience and our understanding of it. So what can I do differently to enhance my own development? Take some time each week to reflect on what's been happening; try out some of the models, and importantly make it happen.
It isn't easy; life isn't easy, and no-one ever said it would be. That said, by reflecting in both a personal and professional capacity we afford ourselves the opportunity to develop and grow as individuals and practitioners. So take another look in that mirror why don't you; you may just like what you see, and if not you might find ways to change your reflection.
References
Barksby, J., Butcher, N. & Whysall, A., 2015. A new model of reflection for clinical practice. Nursing Times, 111(34/35), pp. 21-23.