One Thing Leads To Another
by Eluned Cook, BBTS Membership Supervisor
---
IMPROVE YOUR CAREER! CHANGE YOUR LIFE!
How does it feel reading those statements? Encouraging and motivating? Or overwhelming and exhausting? We might want to make a big change in our life but the prospect of such a huge undertaking paralyses us. We don't quite know where to begin, so we don't begin at all. Have you ever looked at a successful colleague who loves their job, does research and has it published in journals, talks at conferences, gets involved in collaborative projects, is able to positively influence things around them, and gets promoted again and again? Do you wonder how they do it, or wish you could do the same? Maybe you are that successful person, but are still looking to make a change of some sort.
At BBTS we know that it isn't laziness that prevents people from trying to make changes and improvements in their career – it's this paralysis, exhaustion, or lack of clarity on exactly how to go about the task in hand. So instead of looking at the ultimate goal and letting it grip you with fear, focus on what is immediately within reach, thus reducing the overall task in to separate, manageable chunks. When confronted with a big meal we don't try to swallow it whole, we work through it one mouthful at a time. Making one easy change can lead to another change, and another, and another; suddenly these little changes have added up to one big change.
Take my 'to do' list before I wrote this article. At the top of the list was 'WRITE AN ARTICLE!' - an intimidating prospect and so I ignored it for a while because I wasn't sure where to begin. Eventually I got tired of those capital letters shouting at me and decided to change the task. So - I wrote a second to do list! This new list included all the component parts of writing an article: decide on a topic, define the purpose of the article, be aware of the audience, research your subject, and so on. Approaching these smaller tasks one at a time eventually built up to what you're reading now. If you want to improve your career, starting or maintaining your BBTS membership is an excellent starting point – an easy win. Joining online takes a few minutes to fill out a form, and make payment with a credit or debit card. Future payments can be made by direct debit which also involves taking a couple of minutes to fill out a form, and that's it. But then what? "How does that help my career?" you might wonder. Well, membership of a professional body is something you can add to your CV and Continuing Professional Development (CPD) record, so that's a start. A small start, but a start nonetheless. This start opens a door, which will lead to another door, and another, and another. You don't have to run through all of these doors at once, but if you're not a member of BBTS then you'll never even get the chance to peek through the keyhole. You might not want to run through any of these doors, but as a healthcare professional there are a certain number of things that you need to do to remain employed, and BBTS can help you with those things.
BBTS sends its members a quarterly magazine and a bi-monthly scientific journal, and reading those constitutes CPD, which is an essential part of your working life. This might lead you to start using the BBTS online CPD tool, recording your CPD activities as and when you do them. It might help you to realise that you do more CPD than you thought, and also what kinds of activities you should focus on to plug any gaps in your lifelong learning. BBTS publications also give you information about your profession that help to keep you informed, sustaining your enthusiasm for your profession and making sure you are up to date with latest guidelines and regulations.
You might decide to undertake one of the BBTS education programmes, gaining a valuable transfusion-specific qualification that demonstrates your knowledge of and commitment to your profession. A work-based course can give you more variety in your professional role, helping to keep things interesting and preventing you from just going through the motions each day. Qualifications can also set you apart from colleagues, putting you to the front of the queue when it comes to promotion or applying for a new job. With a BBTS qualification under your belt you could go a step further and become involved in shaping new BBTS education courses, or marking examination papers. Even if you don't go down that route, your membership of BBTS contributes to the society being able to develop new courses for transfusion professionals, supporting the profession as a whole.
BBTS members are kept informed about relevant educational events. You might decide to attend one of these events, such as the BBTS Annual Conference. Whilst at the conference you might look at someone's scientific poster that's being displayed and realise "I could do something like that". You don't have to be making ground-breaking scientific discoveries that revolutionise transfusion; you might have done an audit or survey, written a new policy or procedure that has improved your workplace, or introduced a new efficiency that has reduced waste. The next year you might decide to submit an abstract to the BBTS Annual Conference, using the abstract guidelines that BBTS supplies. Your abstract might be selected to be presented as a poster. This could lead to another transfusion professional seeing your abstract and wanting to collaborate on a future project. This could become another abstract that you submit to the next BBTS Annual Conference, but this time you might be asked to develop your abstract in to an oral presentation, giving you a platform to speak directly to other transfusion professionals and share your experience and ideas.
Now you've been a member of the BBTS for a while you have probably realised how much BBTS has to offer the profession, and how much you have to offer BBTS. You might have identified an area where you think BBTS could improve, or where you could make a contribution. You might decide to write the kind of article that you'd like to read in this magazine. You might have had a couple of ideas for articles and decide to join the BBTS Communications Committee so your thoughts can become reality. Or you might think the BBTS Annual Conference could benefit from a new session, so you might get involved with the Scientific Meetings Administration Committee. Your involvement might lead to a role beyond BBTS, on one of the many bodies and advisory panels where BBTS represents the profession. Now you're actually playing a role in supporting the profession beyond your own workplace, shaping policies and guidelines, and strengthening the role of transfusion in healthcare throughout your region, or even throughout the country.
So now - remember that successful colleague we talked about in the first paragraph? That's you, and it all began because you started and maintained your membership to the British Blood Transfusion Society, and that one thing led to another.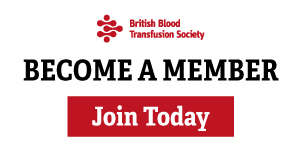 Your Comments
---
Eluned (BBTS)
6 Apr 2017
10:22 am
---
---