Don't leave it too late
---
The BBTS Annual Conference is incredible value for money! Our programme is packed full of new discoveries, solid research and best practice advice delivered by over 100 brilliantly knowledgeable speakers from around the world.
Registration will remain open right up until the event itself, though we encourage you to book early and reap the financial benefits this brings. Not only will you receive a significant discount on the cost of registration, but travel will be cheaper and accommodation easier to secure.
The benefits of early booking don't stop there. We know how far in advance you need to book leave/ time away from your workplace, and the earlier you put in your request the more likely your manager will be able to agree. Give your manager as much time as possible to cover any shifts you may miss whilst at BBTS 2017.
The BBTS team are on hand to help with any queries you may have. We want you to make the most of your visit to the conference whether attending for one day or three. Email any booking queries to our conference organiser, or for general queries contact the BBTS Office on 0161 232 7999.
---


---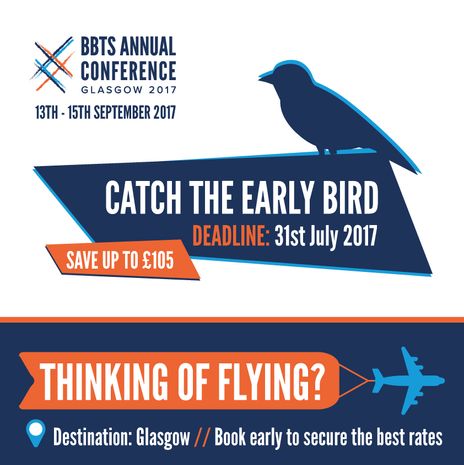 Your Comments
---
Marie (BBTS)
6 Sep 2017
2:14 pm
---
---