5 Reasons to keep your CPD portfolio up to date
The importance of CPD should not be underestimated. As practicing professionals, it is a career-long obligation to keep an up to date record of professional activities relating to your field of expertise.
We've put together 5 reasons that you should be completing your CPD on a regular basis (and not just when your professional body comes calling)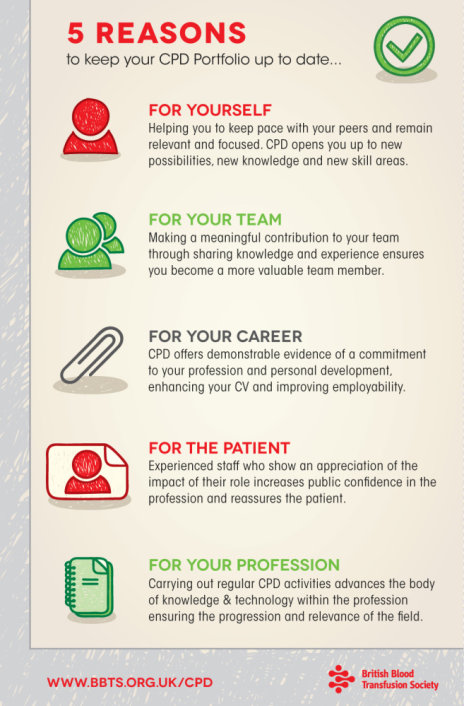 CPD can help you to reflect, review and document your learning and to develop and update your professional knowledge and skills.
---
BBTS offer a number of support mechanisms to help you gain, record and submit your annual activities:
Add to your portfolio:
Record your activities
Members have access to the exclusive online CPD Tool developed specifically with transfusion professionals in mind. The tool can be accessed from your PC, laptop, tablet or even your smartphone - ideal for recording your notes during lectures.
Submit your Portfolio
Submitting your portfolio annually verifies that you are a member of a CPD scheme and can be done at the click of a button.
If you are a BBTS member it is not to late to submit for this year.
---
Do you have any advice for colleagues who struggle to complete their CPD on a regular basis or are you one of the many who find the task a necessary evil? Let us know in the comments below.
The BBTS Team

---
Don't forget, if you have any queries about the services offered by BBTS please email bbts@bbts.org.uk
---