Today's Events
no events today

Tweet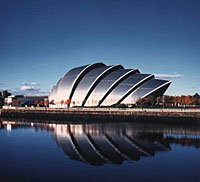 Venue and Location
---
Venue
Scottish Event Campus
Glasgow, Scotland, G3 8YW

Accommodation
Use your preferred booking site. Alternatively, there are details of hotels in Glasgow – including contact details – at People Make Glasgow.
Useful Links
How to get here, accommodation & things to do:
PeopleMakeGlasgow.com
Getting to Glasgow
Glasgow is now even easier to travel to with direct flights available from most major UK airports, including Belfast, East Midlands, Leeds-Bradford, Manchester, Birmingham, Bristol and London. Train links have also improved with a journey from London to Glasgow taking just over 4.5 hours.
For more information on getting to Glasgow visit the People Make Glasgow website.
Why Glasgow?
The City has World-Class Attractions you can visit for free

According to Wanderlust travel magazine, the city has an "impressive gastronomic scene"

Find stunning architecture hidden in plain sight

Discover the work of Glaswegian architect and designer Charles Rennie Mackintosh

Let the locals take you on a tour - you'll get to know the city really well

You can discover diverse neighbourhoods

It's a "shopaholics paradise" - Lonely Planet

You can seek out adventure

Explore the Finnieston area
The SEC is ideally situated for delegates to explore the trendy Finnieston area.
Insider tips on the area can be found here: peoplemakeglasgow.com/discover/districts/finnieston
Special tour discounts for delegates (extending your stay):
If you'd like to take a sightseeing tour before or after the conference, Glasgow City Marketing Bureau have arranged special discounts for delegates as follows:
Rabbie's Tours
Small group tours – full day or half-day, departing from Glasgow City Centre.10% off tours for conference delegates using the code GCM1115
0131 226 3133 / www.rabbies.com
Timberbush Tours
1,2 or 3 day tours of the Scottish Highlands and Islands, departing from Glasgow City Centre.15% off tours for conference delegates using the code GCMB15
0141 226 8882 / www.timberbush-tours.co.uk
Simply contact the tour company directly quoting the discount code above to book your trip.